Discussion Starter
·
#1
·
The other day, I was fueling up. I'm always "Condition Yellow" at the gas station. I lock the gas nozzle (auto-shut-off) and walk around to the front or rear of my car and become a "look-out."
I noticed a man approaching and talking to another customer who was standing trapped between his car, the pump, and the nozzle / hose. The customer let the stranger walk right up to bad-breath distance. Apparently, it was a homeless (?) person asking for a hand-out. But, he was RIGHT ON TOP of the customer.
After being turned down, the man set his sights on me (I was at the next pump). I saw it (and him) coming. As he approached, I moved around my car to keep that barrier between us. It didn't faze him and he started to round the corner of my car. I kept moving and used a command voice,
"Do NOT come any closer!"
He stopped dead in his tracks (and looked a bit perplexed).... and then moved on to the NEXT car / customer who he ALSO trapped and got within touching distance. I wish I had taken video.
I also noticed that when I barked at him to stay away, it even got the first customer's attention.
He may be harmless. But he may NOT be harmless. Folks, don't let complete strangers corner you and get within bad breath distance. You are putting yourselves at significant risk!
Here's a perfect example of trapping yourself while fueling and IGNORING the environment. This guy actually DID see it coming and turned his head down and away.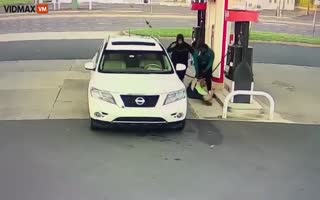 A Philadelphia man and two juveniles are in custody and charged in the violent carjacking of a driver who was attacked while pumping gas at a Warrington station Monday. The man pumping gas at the Luk Oil on Easton Road was attacked from behind and placed in a chokehold before the suspects flee...
vidmax.com