Discussion Starter
•
#1
•
Well, for better or worse, all this down time gives me a chance to post the projects I have been working on.
The Savage 24V was a over/under gun in the style of the old German Zweiling, with a shotgun barrel on the bottom and a rifle barrel on the top.
They were made in a variety of gauge and caliber offerings between 1950 and 2010 when they were discontinued.
This one was one of the hurricane guns. The gun itself was in fine shape, but the handguard had been broken at some point in the past, and had been poorly repaired using JB Weld.
Original Repair.
Since the fit was poor and there are gaps, it was possible to get the pieces separated again.
JB Weld softens with alcohol, so I soaked the area for a bit, and was able to get the piece off intact.
Once the pieces were apart, I had to get as much of the JB Weld out of of the wood as possible to get a good bond with Acraglas. Using a few dental tools, alcohol, and time, I was able to get about 98% of the JB Weld out of the wood.
Cleaned wood, you can see traces of the grey JB Weld packed in the grain of the wood.
I was able to get the pieces to dry fit pretty close.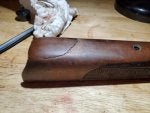 Once all of the alcohol had evaporated, I mixed up some acraglas, dying it brown so it would blend a bit better.
I put a generous coating on both pieces and clamped them together. I used a piece of latex tubing to cushion the clamp, because Acraglas will not stick to latex.
After clamping, it was left to set overnight.
The next day I removed the clamp. There was good adhesion, but there had been some shrinkage.
After cleaning it up with files and sandpaper, You can clearly see where there are low spots.
Next Post.