Discussion Starter
•
#1
•
In anticipation of another can I have coming I moved a couple mounts around and put a new one on the MPW. Put the can on and 'eyeball' you can. But the last thing you want is to have a baffle strike or blow out your end cap. So in order to really satisfy ones ocd and be sure things are true you of course need a tool. Concentricity is the term and that is how straight things are all the way thru the bore and can.
This is where a little research saved me $65 and shipping. Some may argue but the specs are the same.
Here we have the marketed Geissele 'tool'. Basically a $75 dollar steel rod. Yeah it's ground to within .001 all the way down and straight and it fits perfectly in the bore without wiggle.
http://www.brownells.com/gunsmith-tools-supplies/rifle-tools/barrel-tools/7-62mm-suppressor-alignment-rod-prod72375.aspx
But then we have what I found on Amazon for $9.95 shipped free.
https://www.amazon.com/gp/aw/d/B0050RIOFG/ref=yo_ii_img?ie=UTF8&psc=1
This is also a hardened steel rod ground to within .001 and as straight as can be.
The Geissele tool is only 17 inches long so if your gonna check a bolt gun you won't be able to get a full length look at things. The Amazon rod is 36 inches long. So it will work for just about anything.
Now first this is a 'cheaper' rod in the sense it's not made specifically for this purpose. So it's a good idea to check the ends with a caliper to make sure they didn't get squeezed or widened during the cut. Also looks for burrs on the ends. Again it's hardened steel and will score your bore if there's a burr. That's the only 'benefit' for the Gesseile tool. It's a polished rod made for this purpose so out of the box it's GTG. Fortunately for me though my cheapo rod was true and had perfect ends out of the tube. It was a little dry and dirty. You can tell it came from a factory. So a good cloth and some clp along with a few swipes up and down cleaned it up and smoothed it down.
I say tube because it came wrapped in a rust prohibitive type paper ala Smith & Wesson and inside a really nice HD tube which will work perfect for a storage unit.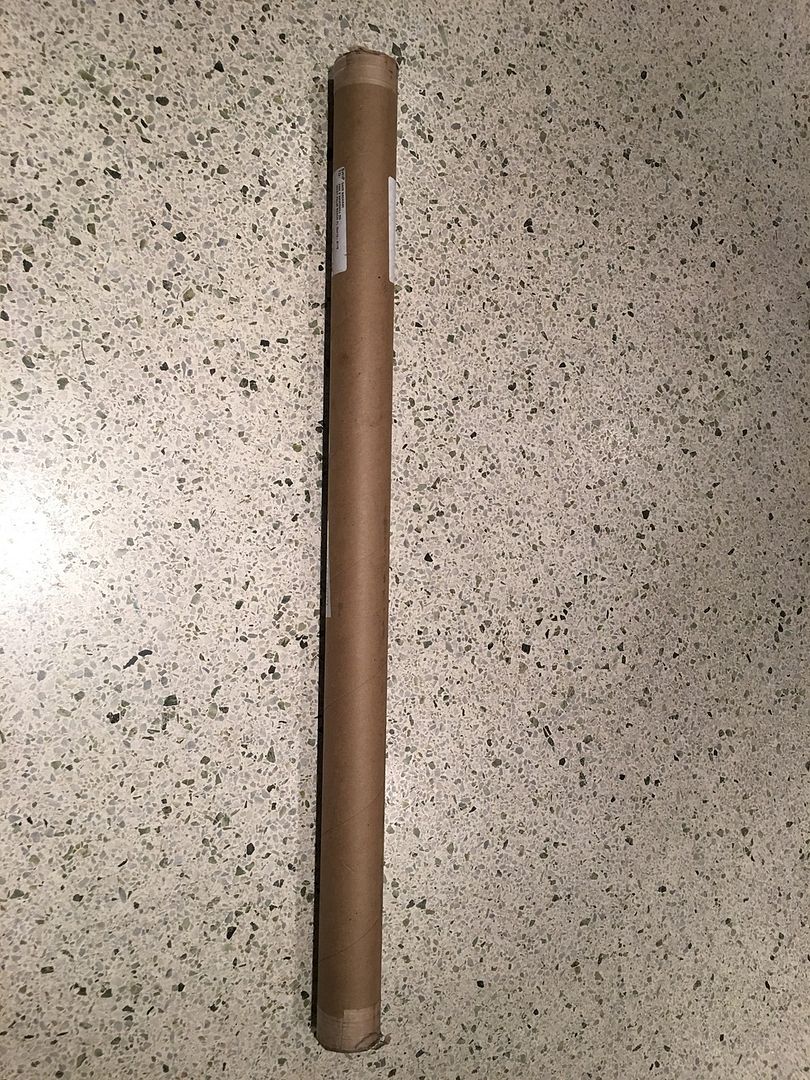 A pic of the rod coming out showing it..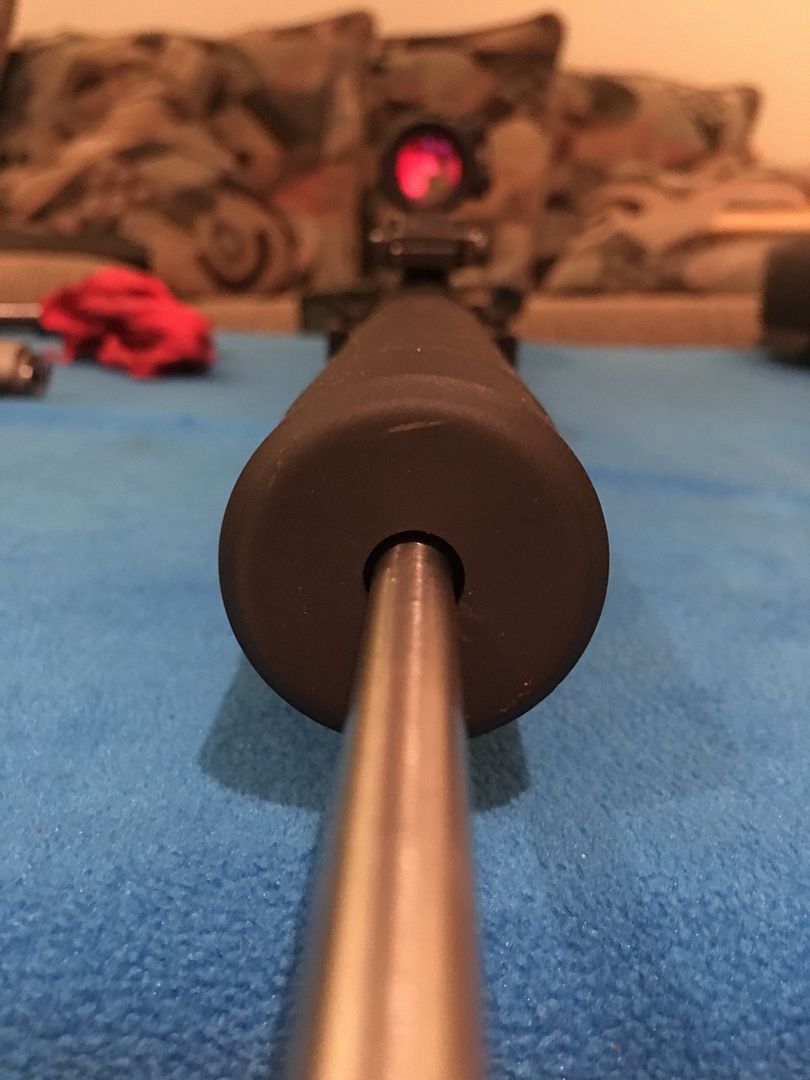 Now what you are supposed to do is bring rod end right to end cap and see.
If the rod is perfectly centered in end cap hole things are concentric and you should be GTG. If it's touching any of the sides of the end cap opening or won't pass thru at all that's a FAIL and you must realign things to be ok.
So here's a pic of the mount and can as well as rod tip right there.
Perfect and centered. I'm satisfied and good to go.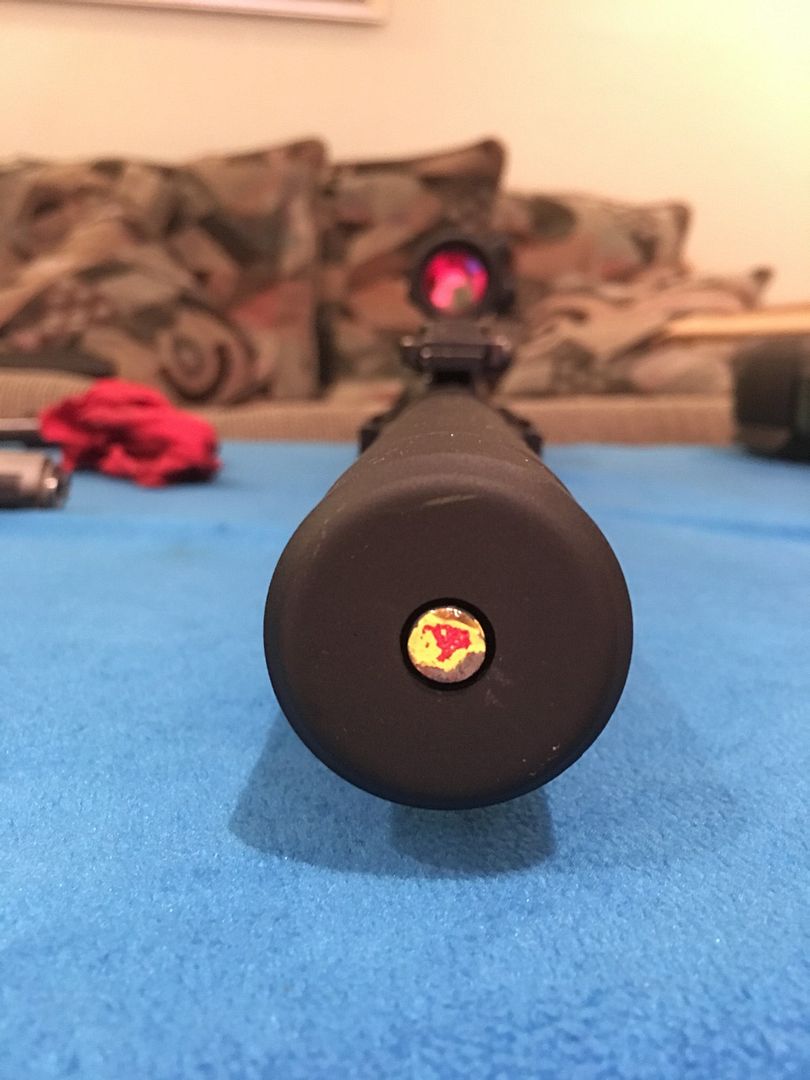 So the specs on straightness for both are to within .001 all the way down.
Diameter on the Geissele rod is .297. And the diameter on the Amazon rod is .2968.
2/10,000 of a difference was negligible as with a light coat of RemOil it fit perfectly in the bore without wiggle or movement.
I am still in search of a perfect matching diameter rod to the 5.56 one Geissele makes.
The first one I got was smaller by a few thousandths and wiggles a bit which is not a good indicator. So for now I figured I'd share my cost savings way to make sure things are true and centered on .30 caliber guns and save some money while doing it.