Discussion Starter
•
#1
•
I just wanted to let you guys know that GOA is active in FL. I'm the state director and currently in Tallahassee stomping the halls of the capitol as best I can.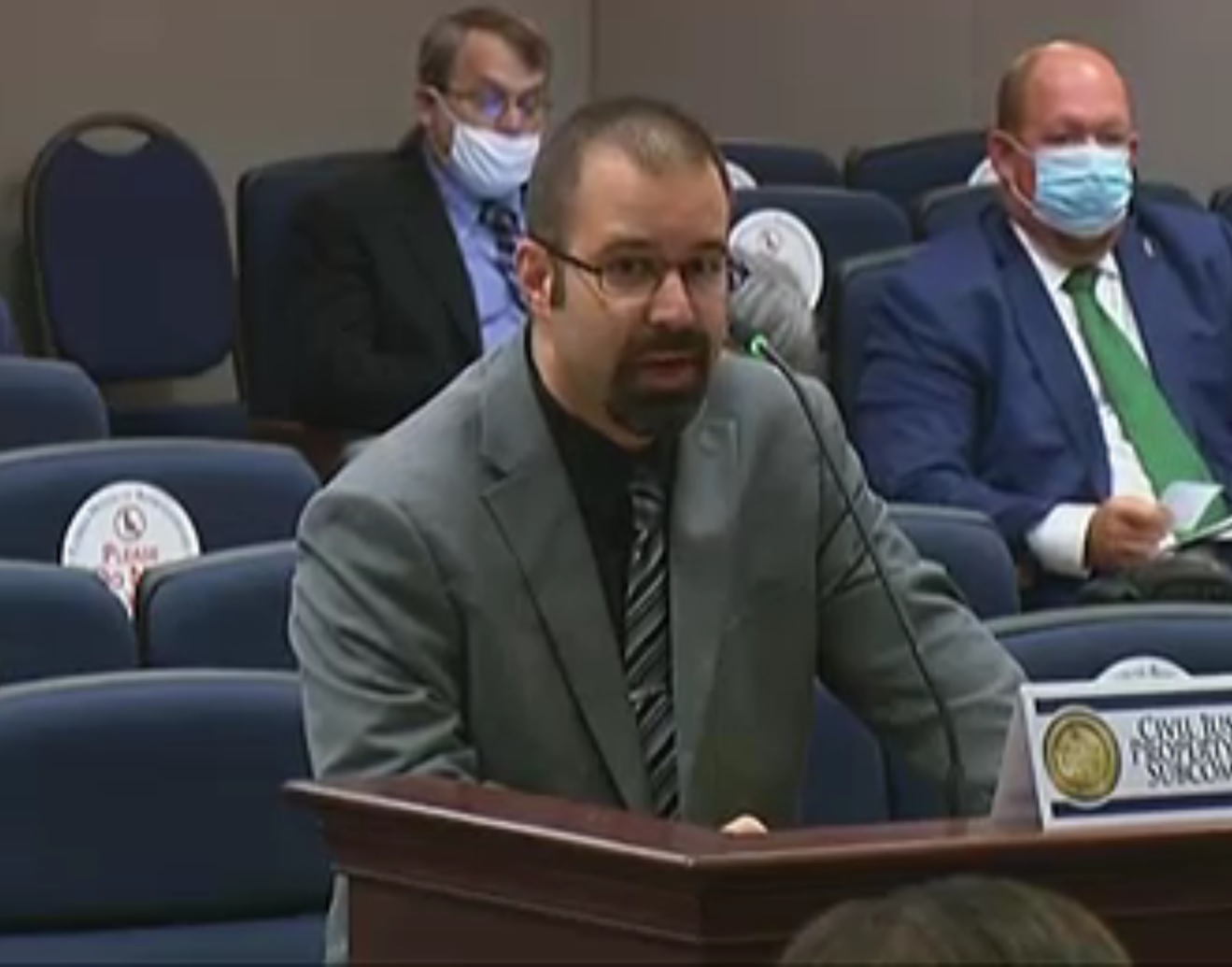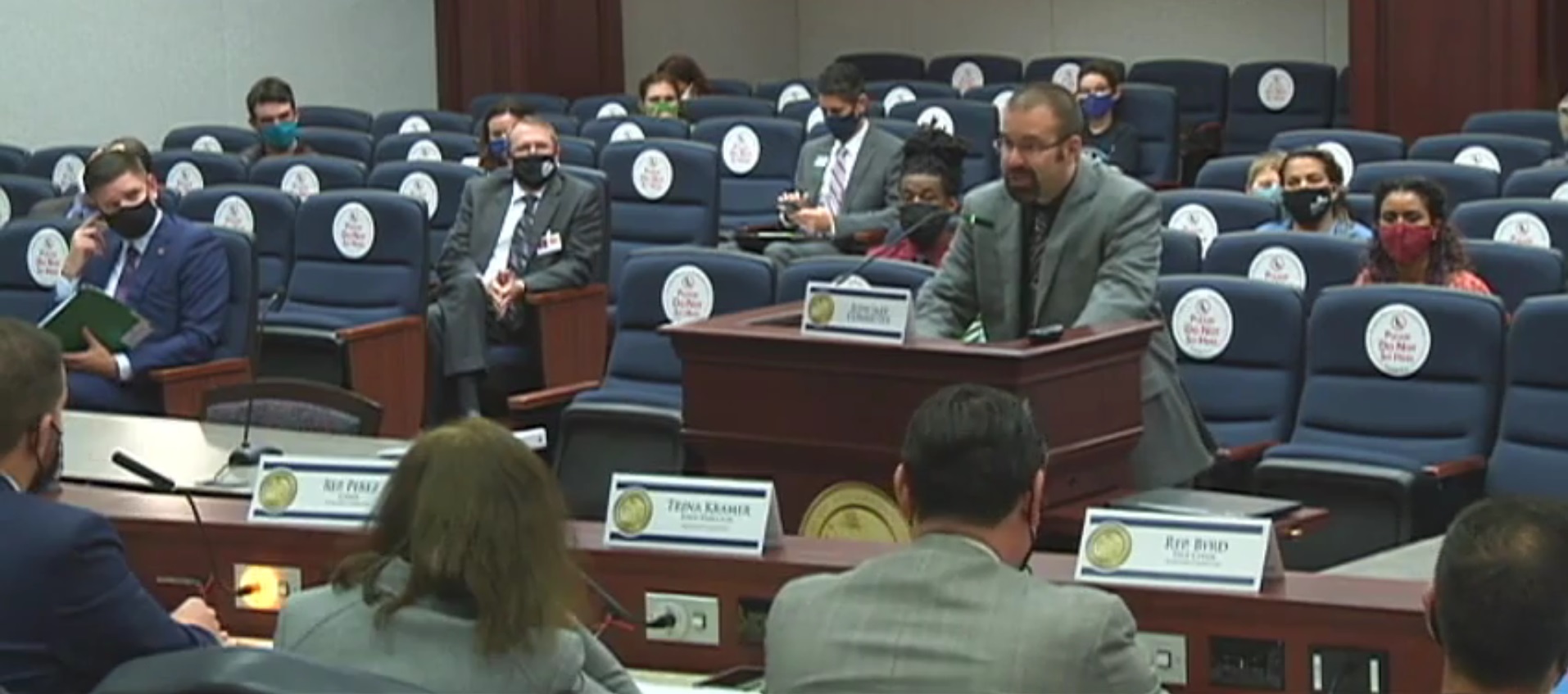 So I ask that you go and
overload their email inboxes, voice mail (the Senate is 850-487-5229, the House 850-717-5000, and the Governor's Office is 850-717-9337), and physical offices with letters.
Urge Gov. Ron DeSantis to use his office as a bully pulpit to put pressure on our Republican lawmakers to support Pro-Gun Legislation.
PLEASE COMPLETE THE EMAIL THAT THIS LINK GOES TO. IT HELPS SEND GOV. DESANTIS THAT GUN OWNERS WANT FLORIDA TO HAVE CONSTITUTIONAL CARRY.
On March 11, we sat down with Gov. DeSantis' staff and discussed the very issues you have emailed me about.
So what did we present to his staff?
We discussed how Florida should be passing a solid Second Amendment Sanctuary laws and how as Governor, he should be spending political capital in supporting legislation like HB 123 (Constitutional Carry) and HB 6001 (Campus Carry).
Currently, those bills are languishing in the House's Criminal Justice & Public Safety Subcommittee. We emphasized that without the Governor's support, those bills will not move forward.
I
We also brought up how there have been a number of gun companies fleeing oppressive states and that Florida should be having them move here. But the most shocking thing, is that we have gun companies in Florida leaving for other states.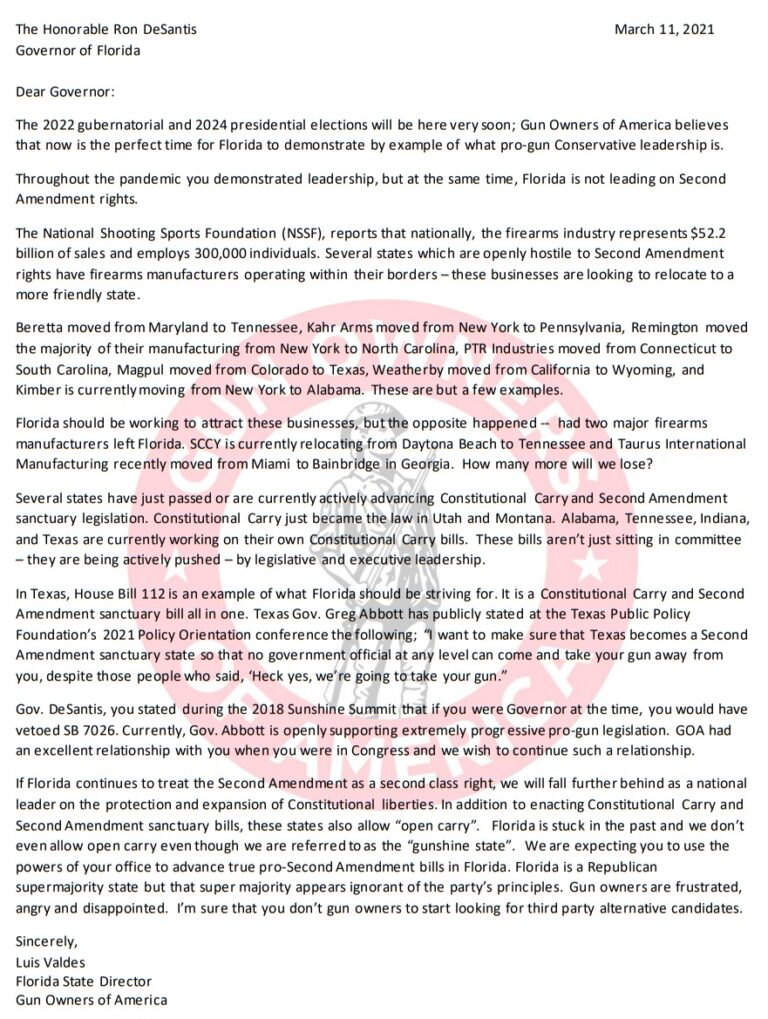 Also, the State Legislature is currently in Session. Right now, the Republican Speaker of the House, Chris Sprowls and the Republican Senate President, Wilton Simpson are looking to kill Constitutional Carry in committee.
Urge your FL Lawmakers to Co-Sponsor & Vote in Favor of all Pro-Gun Bills.
THIS EMAIL GOES TO ALL THE LAWMAKERS IN THE STATE. THEY NEED TO BE PRESSURED.
I spent the first week of Session handing these letters out to the lawmakers.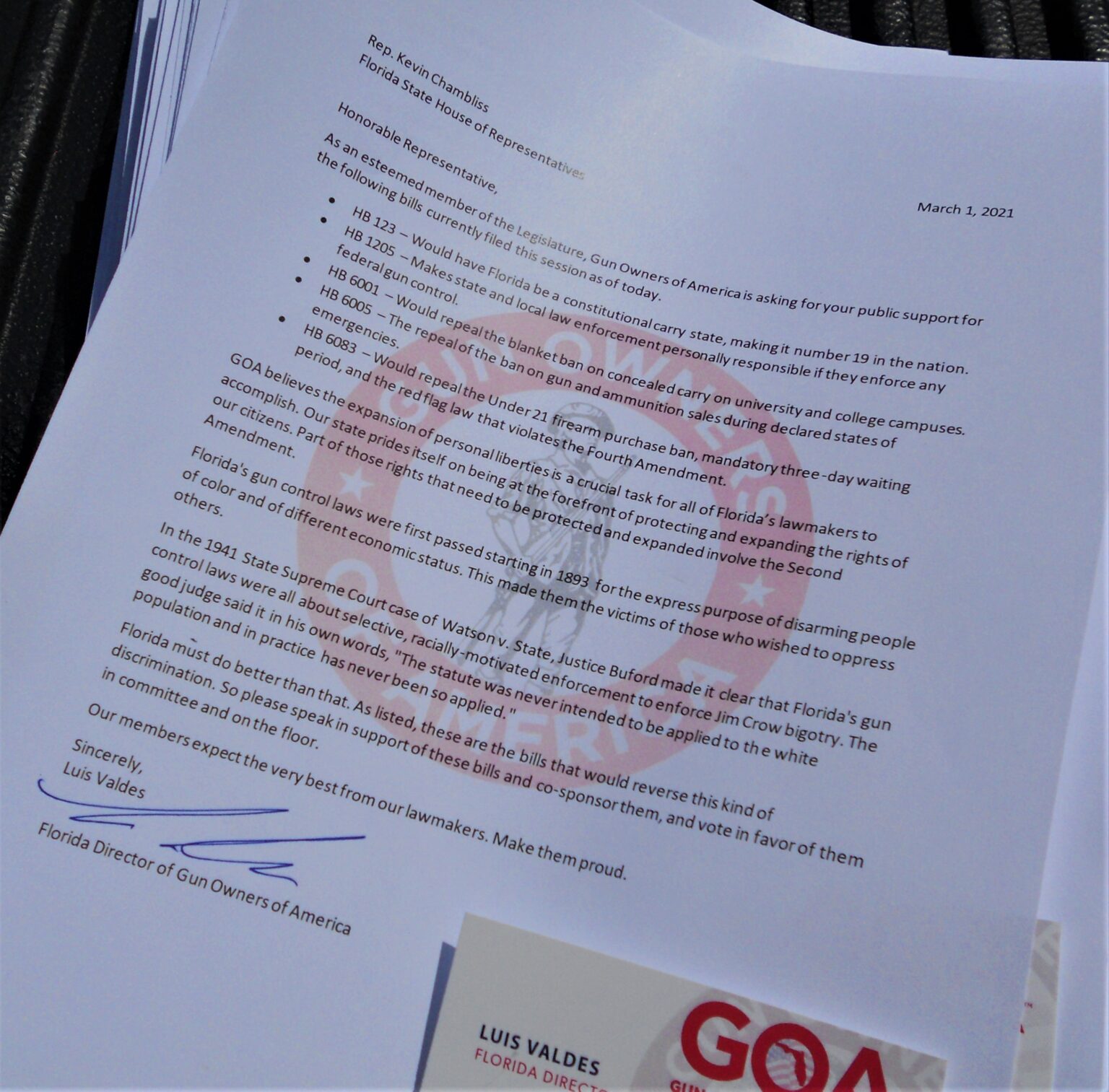 With the Capitol closed due to COVID-19, it wasn't easy.
The Sergeant at Arms Office literally is removing people from the Capitol. I had to mail out the rest.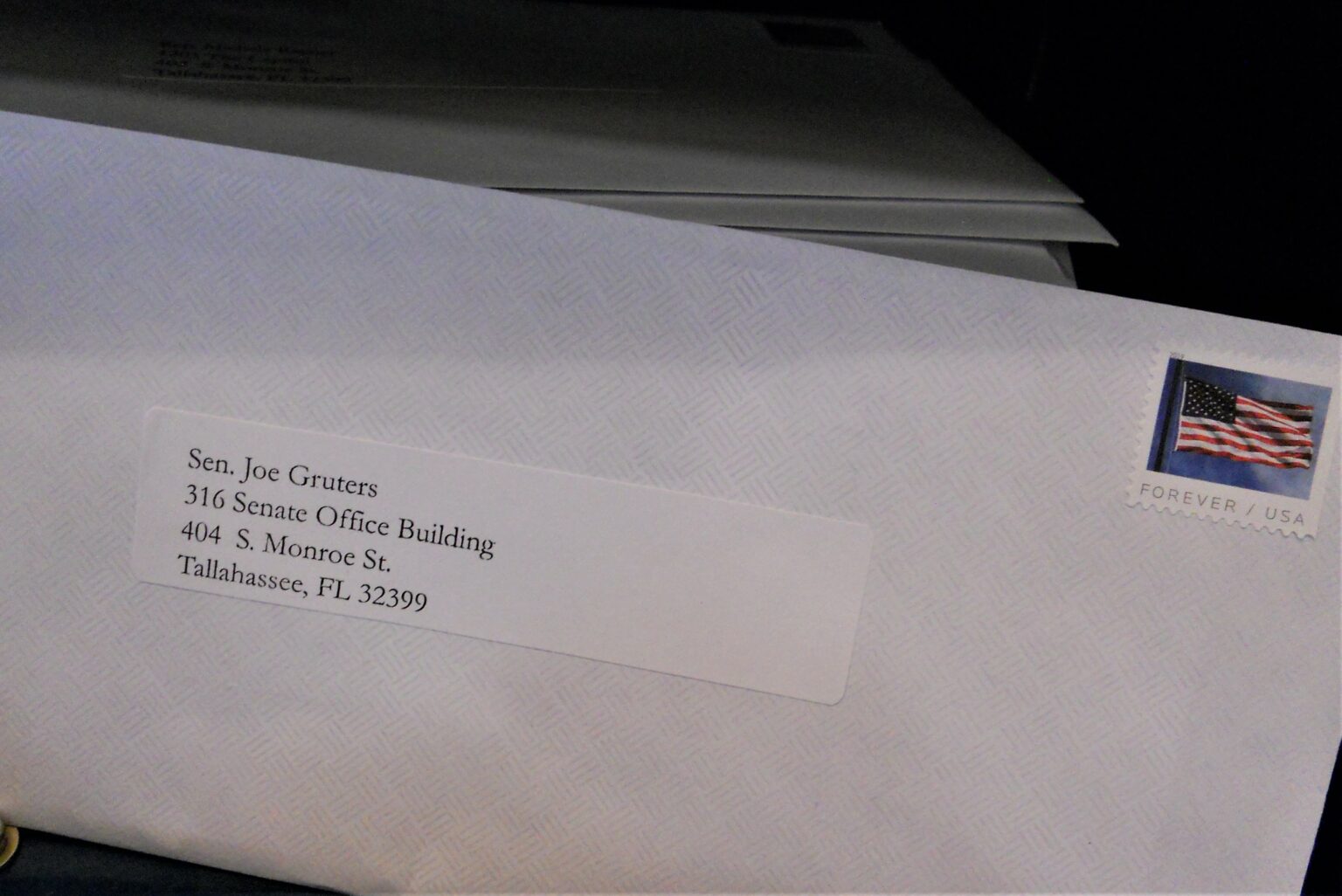 But the more the Governor and the Lawmakers hear from you. The better chance Gov. DeSantis will use his office as a bully pulpit and openly support Constitutional Carry.
Right now, Tx Gov. Greg Abbott is cleaning his clock when it comes to opening the state back up and backing pro-gun legislation.
Email I just sent DeSantis.
Governor DeSantis,

There are currently 18 states with Constitutional Carry and 45 States with Open Carry. Florida is in neither of those groups.

The Tennessee Senate just passed Constitutional Carry and the South Carolina House just passed open Carry.



As things progress, soon Florida will be neck and neck with anti-gun states like California in regard to gun-rights. We have a red flag law that eviscerates the Fourth Amendment to go after the Second Amendment. Open Carry is practically illegal in our state and simple firearm accessories are a felony to possess in Florida.

Protecting the status quo isn't enough. Florida needs to be the shining example of what true Constitutional Liberty looks like. If not, we will be left in the dust of other states as they advance freedom.

Gov. DeSantis, you need to publicly support Open Carry and Constitutional Carry.

I spoke with Rep. Cord Bryd on March 17.

He said he will not have Constitutional Carry added to the Committee's agenda since it does not have a Senate Companion Bill. That's the excuse that Byrd gave me.

The real truth is that the House Speaker doesn't want it heard nor any other pro-gun legislation. He's taking his marching orders from House Speaker Sprowls. No one in the Senate submitted a companion bill because Senate President Simpson will kill all of their other bills.

These bills will not advance unless you put pressure on the legislative leadership.

As a fifteen-year veteran law enforcement officer, I can tell you that no law will stop criminals from committing acts of violence against the honest people of Florida.

As shown last year, Floridians have been restricted in exercising their inalienable rights when the FL Dept. of Agriculture & Consumer Services ceased processing CCW permit applications. When seconds count, police are minutes away and it doesn't matter how many gun-free zones exist on paper.

It did not stop the Pulse Nightclub shooting nor the Marjory Stoneman Douglas shooting. They were both gun-free zones and it won't stop them now either.

The best way to resolve that is to have Constitutional Carry. Let the law abiding have the ability to defend themselves by exercising their inalienable rights.

Thank you for your time and service to the people of Florida.